Congratulations to the Graduates of the 183rd Lumber Inspector Training School.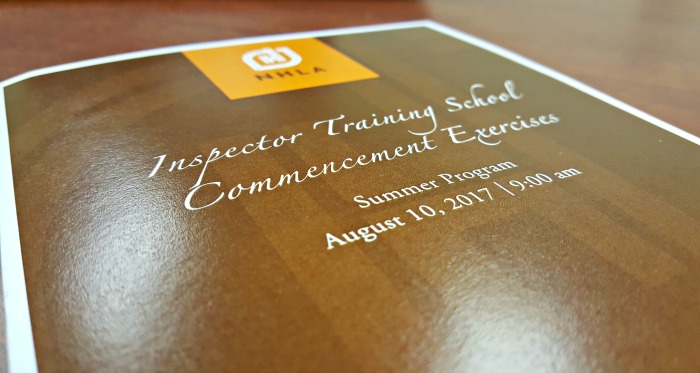 The Keystone Community Education Council (Keystone CEC)  is pleased to congratulate the dedicated group of nine students who participated in and completed the 183rd National Hardwood Lumber Association Hardwood Lumber Inspector class.
In the early morning ceremony on August 10, 2017, Keynote Speaker Allen Guth of  Guth Forest Products, addressed and inspired the students graduating from the 10-week Summer Program held at the Venango Technology Center (VTC).  The students worked through 350 hours of lab and lecture time, learning to evaluate raw-cut hardwood boards to determine the value and distribution of the lumber to the proper manufacturing segment such as furniture, flooring, cabinetry, and others.
Congratulations to the following Graduates:
Michael Blair – BWP Hardwoods, Inc.
Mark Boal – Jones Hardwoods
Kayla J. Chatley – VTC Student
James Coss – Harold White Lumber, Inc.
Aaron M. Darr – Bradford Forest, Inc.
Chris Dunworth – Brownlee Lumber, Inc.
Jacob Garrett Foltz – VTC Graduate
James Kahle – Allegheny Wood Products
Charles Dajen Quesenberry – Griffth Lumber Co., Inc.
*One Honorable Mention was also awarded
The Keystone Community Education Council facilitates the National Hardwood Lumber Association Lumber Inspector Training at the Venango Technology Center located in Oil City, Pennsylvania. For more than 23 years, Instructor Rich Hascher has taught the skills required for 2000 + students to graduate into careers within the lumber industry. He feels a deep responsibility for each student's success, and always makes time for individual tutoring and/or counseling.
The National Hardwood Lumber Association (NHLA) Lumber Inspector Training is a 10-week class with 350 contact hours. The course is completed through a combination of lecture and lab time. Standard class hours are Monday through Friday from 8 a.m. to 4 p.m. Students who successfully fulfill all program requirements will receive a certificate of completion. The training course is available based on need as soon as a class can be filled. For more information, please contact Lance Hummer, Executive Director of Keystone CEC at 814-677-4427 or email: [email protected]