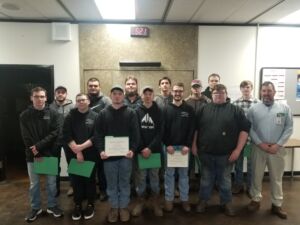 2020 Welding Technology class
Pictured from left to right are:  Hunter Wagner, instructor Joe Crate, Andria Stephens, Branden Toland, Dakota Urey, Hunter Littlefield, Anthony Conti, Cole Harvey, Austin Seigworth, Gabriel Johnson, Andrew Prichard, Tanner Hargenrader, Dylan Saxton, and lead instructor Travis Crate
A class of 12 students received certificates of achievement in the evening Welding Technology program at the Venango Technology Center on Thursday, February 13.  The program was coordinated among the Keystone Community Education Council, the VTC, and the Community College of Allegheny County.
The classes ran from 3-8:30 p.m. for three evenings per week.  Students were able to earn several welding qualifications, as well as garner 18 college credits from CCAC in the process.
This year's graduating class included Edward Conti, Tanner Hargenrader, Cole Harvey, Gabriel Johnson, Hunter Littlefield, Andrew Prichard, Dylan Saxton, Austin Seigworth, Andria Stephens, Branden Toland, Dakota Urey, and Hunter Wagner.
"This is a unique opportunity for students in our area, because they can get these college credits for a fraction of the cost they would pay elsewhere," said Lance Hummer, the executive director of KCEC.  Because of a grant from the Appalachian Regional Commission, high school participants were able to have their program costs paid.
The evening Welding Technology program has been offered since 2009, and Travis Crate, the lead welding instructor at the VTC, has been the lead instructor the entire time.  "The students in this year's program had excellent attendance, and they all worked very hard," Crate said.
Among the 12 graduates, there were 30 welding qualifications earned, with some students earning multiple credentials.  Students also received OSHA 10 certification, as well as training in running a forklift.
Two of the high school juniors in the Welding Technology program, Dakota Urey and Cole Harvey, competed against college students at the American Welding Society's Annual Weld Off (Pittsburgh Section).  Urey finished second overall, receiving a plaque and a $200 check.  Harvey received his 3G vertical up certification.
Shirl Baughman, mother of student Gabriel Johnson, said, "This program has been a wonderful opportunity for Gabe.  May it open many doors for him."  Gabriel Johnson said, "I've learned to become more responsible and have been more capable of finishing my projects."
Latrobe Barnitz, assistant director of admissions and financial aid at Clarion-Venango, provided the food and beverages for the event.  He also let graduates know about the Associate of Applied Science degree in Applied Technology at Clarion-Venango.  "Your 18 credits from CCAC will be applied to your degree, if you choose to pursue this program at Clarion," Barnitz said.
Barnitz noted that 60 credit hours are needed for an Associate Degree at Clarion-Venango.  Given that the 18 Welding Technology credit hours can be transferred to the degree program, students would need only 14 more classes (42 credit hours) to complete that degree.
Students will receive their official certificates from CCAC upon high school graduation.  Students who are interested in registering for this class for next year, or for those who want to find out more about the workforce-development programs KCEC offers, should call its office at (814) 677-4427.