Supervisory Fundamentals
Tuesdays, July 19th-August 9 (no class on July 26): 4 Weeks
Time: 1-5 PM
Cost: $320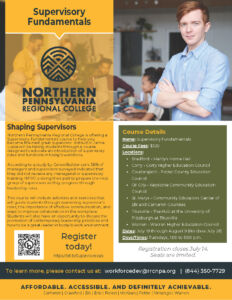 DATES/TIME: 4 Weeks
Dates: July 19 through August 9 (No class July 26) Days
Times: Tuesdays, 1:00 to 5:00 p.m.
LOCATIONS:
• Bradford – Marilyn Horne Hall
• Corry – Corry Higher Education Council
• Coudersport – Potter County Education Council
• Oil City – Keystone Community Education Council
• St. Marys – Community Education Center of Elk and Cameron Counties
• Titusville – The Hub at the University of Pittsburgh at Titusville
• Warren – Warren Higher Education Council
Shaping Supervisors
Northern Pennsylvania Regional College is offering a Supervisory Fundamentals course to help you become the next great supervisor. Instructor Jamie Lupia will be taking students through a course designed to educate an introduction of supervisory roles and functions in today's workforce.
According to a study by CareerBuilder.com, 58% of managers and supervisors surveyed indicated that they did not receive any managerial or supervisory training. NPRC is doing their part to prepare the next group of supervisors as they progress through
leadership roles.
This course will include activities and exercises that will guide students through examining supervisor's roles, the importance of effective communication, and ways to improve collaboration in the workplace. Students will also have an opportunity to discuss the promotion of contemporary leadership practices and how to be a great leader in today's work environment.
To learn more, please contact us at: [email protected] | (844) 350-7729
To Register: https://nprc.empower-xl.com/community/index.cfm/course/details/atvl_id/29/course_id/601692C4BAACFCEDB8A5B58B5252FD24/attr_id/CATG/attr_value/BMGA