Innovative Regional Approaches to Workforce/ Economic Development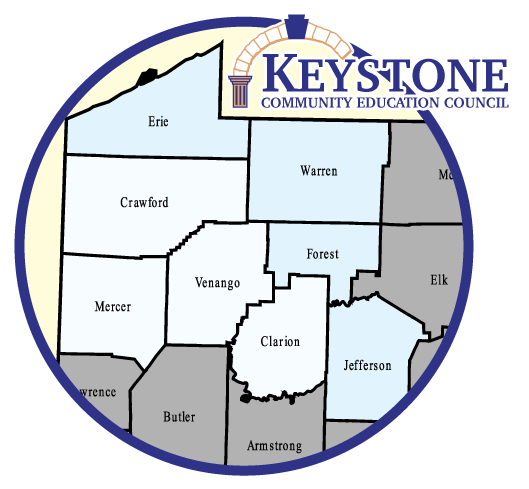 "Education and Training – Where, When, and How YOU Need It!" sums up what the Keystone Community Education Council (Keystone CEC, KCEC) is all about. The Keystone CEC acts as a non-biased clearinghouse and education referral resource for all education providers, and as a coordinator of their efforts. The KCEC acts as a "niche-filler" identifying, brokering, and developing educational training options that are currently not available in their service area. KCEC currently covers Clarion, Crawford, Mercer, and Venango Counties in NW Pennsylvania, and the surrounding area.
Career Assessment/Exploration – Need help trying to decide what your next career move should be? Check out our new Career Assessment/Exploration page!
5 Technical Certificate Programs are being Offered
Don't miss this opportunity!
Gain the skills needed to get a good-paying job!
Low to no tuition costs!
No need to travel far…just to a local Career and Technical Center!
Earn while you learn with participating employers!
The Keystone Community Education Council, the Community College of Allegheny County, local career and technical centers and the Appalachian Regional Commission have partnered to bring five (5) Technical Certificate Programs into the Northwest Pennsylvania area.
Basic Electronics Technology Certificate,
Facility Maintenance Technology Certificate
Machine Technology Certificate
Mechatronics Technician Certificate
Welding Technology Certificate
These programs are being offered to help address the "skills gap" problem in the manufacturing industry in our region. This will bring the same affordable, quality, technical education offered at the Community Colleges to the underserved rural counties of Northwest PA at the lowest cost possible. This partnership is a proven method to help rural communities and local employers meet their educational/training needs by utilizing the local Career and Technology Centers during the times they are not being used by high school students.
The Pennsylvania CareerLink Young Adult Services has funds available to help cover training costs if you are between 16-24 years of age and fit any of these conditions:
Dropped out of school
Low in math, reading, and/or writing skills
Unstable housing, runaway, or in foster care
Pregnant or parenting
Burdened with a Criminal Record
Disabled or faced with other barriers to employment
English as a second language
Need additional assistance to complete your education
It is important to sign up for these classes by June 15, 2019 to access these funds. Classes will begin in the fall. To learn more about this opportunity, please call the Keystone Community Education Council at 814-677-4427.
Upcoming Training:
TRAINING
LOCATION
DATE
MORE INFO.
Welding Tech Certificate
Program
Venango Technology
Center, Crawford County
Career and Tech Center
Fall 2019
Click Here
Basic Electronics Certificate
VTC
Fall 2019
Click Here
Machine Technician Certificate
VTC
Fall 2019
Click Here
Facility Maintenance
VTC
Fall 2019
Click Here
Mechatronics Certificate
VTC
Fall 2019
Click Here