Local Industry Partners with Academia to Develop Apprenticeship Program and Enhance Local Manufacturing Workforce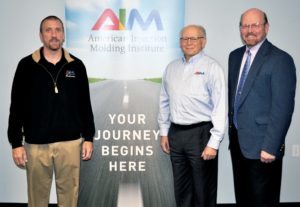 ERIE, PA – The American Injection Molding (AIM) Institute has teamed up with Clarion University and the Keystone Community Education Council (KCEC) to help bridge the skills gap in Northwestern Pennsylvania's manufacturing workforce. The inaugural class of the Plastics Process Technician Apprenticeship Program will step through AIM's doors on November 12th to begin two years of classroom and on-the-job-training.
This state-registered program will allow the apprentices to advance their skills and help progress our region's manufacturing base. "The local plastics industry has been asking for a program like this for years, and we are proud to be one of the educational institutions leading the instruction," said John Beaumont, Founder and Executive Director of AIM. "This combination of hands-on experience and classroom learning provided by AIM and Clarion is tailored to the exact needs of our region's injection molders."
The Plastics Process Technician Apprenticeship Program was pioneered by a collaboration of twelve plastic manufacturers in our region. These companies recognize the importance of investing in their employees and the high value that continuing education brings to the advancement of their organizations. Through this effort, these companies have helped pave the way for skilled plastics workers to further their education in a new pathway that until now was unavailable locally.
"Having multiple pathway options simultaneously builds a pipeline to expand the future labor force with the skills needed in manufacturing, plastics, and petrochemical industries," said Tammy Dulaney, interim director of workforce development at Clarion University. "An individual after high school graduation could enter the labor force and begin to obtain industry certifications through apprenticeship training or enter into a post-secondary track, such as Clarion University's associate's degree in Applied Technology. At completion of this juncture, an individual would have the opportunity to once again enter the labor force, earn industry specific certifications, or continue on for a bachelor's degree."
KCEC is managing all administrative aspects of the program, including helping interested companies receive reimbursement for nearly two-third of the program costs through the Greater Oh-Penn Manufacturing Apprenticeship Network (Oh-Penn) and the Workforce & Economic Development Network of Pennsylvania (WEDnetPA). The total cost of the program is $10,500, and companies are eligible for reimbursements up to $8,100.
"Manufacturers face current and future needs for skilled workers that threaten completeness and growth of the local industry," added Megan Wagner Ingram, Employer and Partner Engagement at Oh-Penn. " The United States Department of Labor recognized this need and awarded the Network a $3 million grant focused on building local manufacturing apprenticeship programs. The Network is excited and eager to work with employers in the plastics industry who are creating advanced manufacturing focused apprenticeship programs!"
There are very limited spaces remaining for the program's first enrollment class, and any companies interested in participating have until November 2nd to complete enrollment. Please contact Lance Hummer, Executive Director at the Keystone Community Education Council, by emailing [email protected].
# #
The American Injection Molding (AIM) Institute exists to be the model educational and research resource for the plastic injection molding industry and its practicing professionals.
 The AIM Institute was founded by Professor and Plastics Hall-of-Famer John Beaumont, who helped develop the Plastics Engineering Technology program at Penn State Erie where he also served as the program's longtime chair.
AIM is home to the plastic industry's first and only accredited educational program, the Plastics Technology and Engineering Certificate Program.
For more information on the AIM Institute and its available courses, please visit the website www.aim.insitutute or call 866-344-9694.