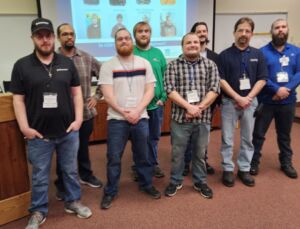 February 8, 2023: The 3rd cohort of the Plastic Process Technician Apprenticeship graduated 8 apprentices on February 8th, 2023. Companies participating included; Viking Plastics, Port Erie Plastics, Plastek Group and Erie Molded Plastics. The apprenticeship requires 4,000 hours of combined classroom and on-the-job training.
The Plastics Process Technician Apprenticeship Program was pioneered by a collaboration of twelve plastic manufacturers in our region. These companies recognize the importance of investing in their employees and the high value that continuing education brings to the advancement of their organizations. Through this effort, these companies have helped pave the way for skilled plastics workers to further their education in a new pathway that until now was unavailable locally.
Keystone Community Education Council, The American Injection Molding (AIM) Institute, and  Clarion University developed the Plastic Process Technician Apprenticeship to address the needs of area plastic companies to bridge the skills gap in Northwestern Pennsylvania's manufacturing workforce.
2023 Graduates:
Justin Arnold – Viking Plastics
Kyle Connell – Port Erie Plastics
Keith Kuhn – Port Erie Plastics
Hunter Gorton – Plastek Group
Jerry Patterson – Plastek Group
Justin Mackowski – Plastek Group
Cory Spaulding – Beaumont Advanced Processing
Matt Porter – Erie Molded Plastics
WJET TV: https://www.yourerie.com/community/erie-men-graduate-into-plastics-manufacturing-industry/