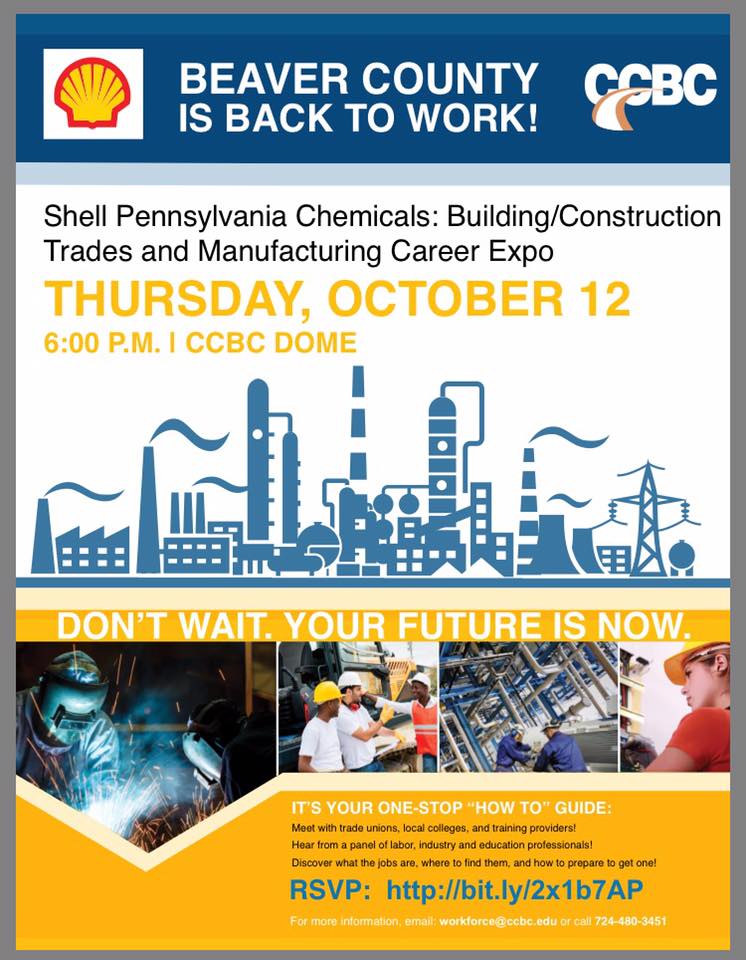 Monaca, PA – Community College of Beaver County (CCBC) and Shell Oil Company are joining forces to host two events on Thursday, October 12 to inform and educate area residents about opportunities in Beaver County, including the jobs the ethane cracker plant will provide, the requirements and qualifications for employment, and the need to build a diverse regional workforce.
"As Beaver County and the region prepare for more abundant employment opportunities in the petrochemical industry, CCBC recognizes the importance of providing venues and opportunities for people to gain a thorough understanding of what the future holds and how to train for those emerging jobs now," said CCBC President Dr. Chris Reber.
Both events will take place at CCBC's Center Township campus, located at 1 Campus Drive, Monaca, PA.
Shell Pennsylvania Chemicals Military Petrochemical Day
The Shell Pennsylvania Chemicals Military Petrochemical Day will take place from 8 a.m.-2 p.m. in room 9103 of CCBC's Learning Resources Center. This career forum is a free one-day conference for current and former military men and women from all branches of service who are interested in working at the Shell Pennsylvania Chemicals Project.
Sponsored by Shell Oil Company, the conference is designed to provide military personnel with an overview of the Pennsylvania Chemicals Project, a summary of the skills that are transferable to jobs within the Pennsylvania Chemicals Project, the application process, and educational scholarship opportunities available for those pursuing process technology positions. Leaders from regional Veteran service organizations will also highlight the benefits and services available to military personnel.
The day will begin with welcoming remarks by CCBC President Chris Reber and Shell Manager of Operations and Craft Recruitment David Smith. Other Shell representatives participating in the conference will include Technology Manager at the Pennsylvania Chemicals Project Arthur Bailey, Recruiter Dylan Raymond, Regional Operations and Craft Recruiter Krista Borstell, and Workforce Development Specialist David Esquibel.
The afternoon session will feature speakers from Bechtel, the main contractor responsible for construction of the Pennsylvania Chemicals Project, and conclude with a military panel discussion comprised of Shell's Veteran employees, who will provide personal insight into their careers at Shell and answer audience questions on various aspects of employment with Shell.
Breakfast and lunch will be provided.
Shell Pennsylvania Chemicals: Building/Construction Trades and Manufacturing Career Expo
In a proactive effort to inform all residents about current and emerging job opportunities, the second of the day's events, the Shell Pennsylvania Chemicals: Building/Construction Trades and Manufacturing Career Expo, will take place at 6 p.m. in the CCBC Dome.
The Career Expo is free, and it is open to everyone.
"Our goal for the Expo is to educate attendees about the types of jobs our facility will provide so people can take necessary steps to prepare," explained Joe Minnitte, External Relations Advisor for Shell Oil Company. "This event will give residents facts about local training programs, types of jobs within our facility, and access to other employers in the region."
Short-term, intermediate, and long-term career opportunities will be available at the facility, in other manufacturing organizations, and throughout the area in future years. An estimated 6,000 workers from building and construction trades, including bricklayers, boilermakers, carpenters, electricians, welders, installers, ironworkers, pipefitters, steamfitters, and general laborers, will be needed during the cracker plant's construction phase. Once operational, there will be 600 permanent full-time jobs paying family-sustaining wages in career areas such as process technology, engineering, and maintenance, among others. Certificates, two-year, four-year, and graduate degree programs will prepare employees in many areas of the future Beaver County workforce.
Career Expo attendees will meet with trade union leaders, local college representatives, and other training providers; hear from labor, industry and education professionals; and discover what the jobs are, where to find them, and how to prepare for them.
"CCBC is honored to host professionals from labor, industry, and education who will share information and success strategies from their respective organizations to help Beaver County prepare for a new and vibrant future," said Reber.
Veterans can register online for the Shell Pennsylvania Chemicals Military Petrochemical Day at http://bit.ly/2vnPtaF.
Interested attendees are encouraged to RSVP for the Shell Pennsylvania Chemicals: Building/Construction Trades and Manufacturing Career Expo online at http://bit.ly/2x1b7AP.
For more information about either event, please email [email protected] or call 724-480-3451.