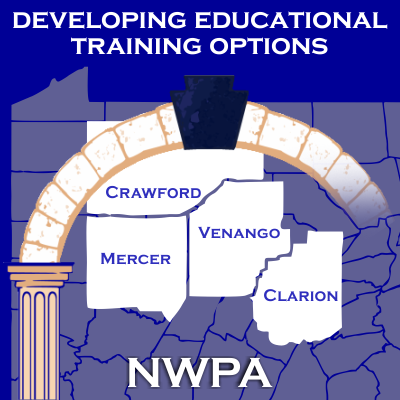 "Education and Training – Where, When, and How YOU Need It!" sums up what the Keystone Community Education Council (Keystone CEC, KCEC) is all about. The Keystone CEC acts as a non-biased clearinghouse and education referral resource for all education providers, and as a coordinator of their efforts. The KCEC acts as a "niche-filler" identifying, brokering, and developing educational training options that are currently not available in their service area. KCEC currently covers Clarion, Crawford, Mercer, and Venango Counties in NW Pennsylvania, and the surrounding area.
Career Assessment/Exploration – Need help trying to decide what your next career move should be? Check out our new Career Assessment/Exploration page!
Upcoming Events:
| TRAINING | LOCATION | DATE | MORE INFORMATION |
| --- | --- | --- | --- |
| Pipe Welding Class | TDB | TBD | Click Here |
| Future Class | TDB | TBD | TBD |
| Future Class | TDB | TBD | TBD |
| Future Class | TDB | TBD | TBD |
Lumber Inspector Training School in Progress:
What is a Lumber Inspector?
A Hardwood Lumber Inspector evaluates a raw cut board of hardwood lumber and assigns the board a grade, based on the standards set forth by the NHLA Hardwood Lumber Grading Rules. Once this grade is determined the board can then be valued, distributed / sold and utilized by the proper manufacturing segment such as furniture, flooring cabinetry, etc.
Inspectors are employed by hardwood sawmills, dry kiln operations, wholesale lumber distributors, manufacturing plants (such as cabinetry, moulding & millwork, pallets, flooring, furniture, etc), exporters, importers and countless other types  of firms that utilize hardwood lumber.
This is a 10 week class comprised of 350 contact hours. Contact hours are completed through a combination of lecture and lab time. Students who successfully fulfill all program requirements will receive a certificate of completion.
Photo of 2017  Lumber Inspector Class